Show Notes
The Show Notes tab can be used to store general purpose performance notes such as reminders, lyrics, guitar tabs, images etc...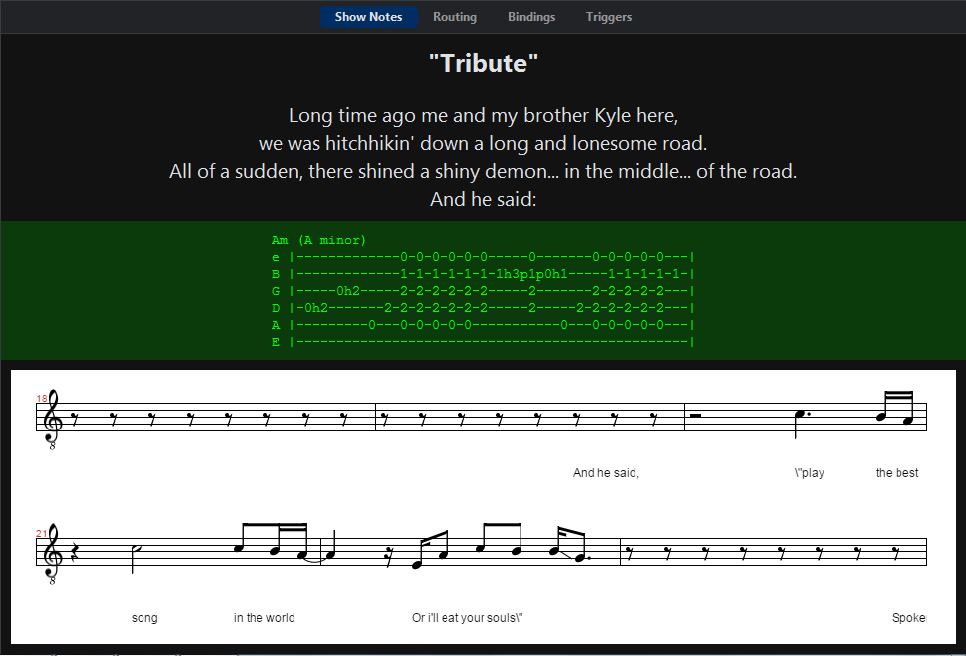 Show notes are a list of note items where each item comprises a block of text and an image. In the above screen shot the display is comprised of 4 notes:
The "Tribute" title (Text)
The lyrics (Text)
The "ascii art" guitar tab (Text)
The score display (Image)
Editing Notes
To add a new note, select "Show Note" from the "Insert" menu, or right click on the Show Notes panel and choose "Add Note". You can edit an existing note by right clicking and choosing "Edit", by double clicking it or by selecting it and pressing enter.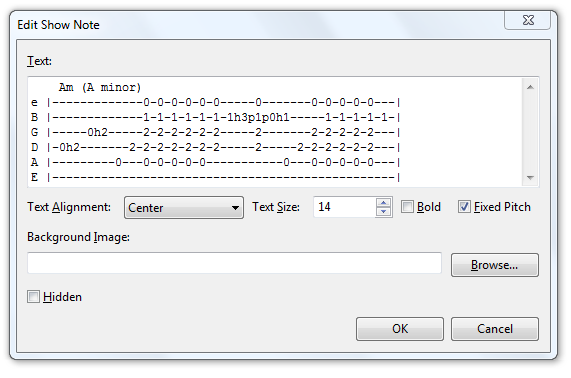 Most of these properties are self explanatory, except...
Images are always displayed centered and reduced in size if too wide to fit on screen.
Fixed pitch text items are aligned as a block (rather than each line individually aligned).
Notes also have colors which can be selected by right clicking on the item on the main Show Notes panel.
Notes can be cut, copied, pasted and re-ordered using the standard short-cut keys and menu commands.
Resizing Images
Images used in show notes can be resized by selecting the show note (indicated by blue border) and using the Ctrl+Page Up and Ctrl+Page Down keys to adjust the size.
Notes can be hidden to remove them from view (typically used in combination with states - see below).
In order to access hidden notes for editing, right click on the Show Notes panel and select "Show Hidden Notes". The hidden notes will be shown in washed out colors.
Variables
You can use variables to include dynamic text in the text area of a show note.
eg: to include the name of the current song in a show note:
Now Playing: $(SongTitle)

For a full list, see variables.
Controlling Notes with States
Show Notes can be controlled by song states so different song parts can show different notes.
The attributes of the note that are controlled by states can be selected in the State Behaviour panel just like any other state controllable object.
See also: States