Cantabile 3 Whirlwind Tour
A quick walk-through of Cantabile's main features.
It's been a while in the making, but Cantabile has undergone a complete ground up rebuild. From
the audio engine to the user-interface and everything in between, the entire product has been
re-imagined, re-designed and re-engineered.
The best way to perform live is about to get a whole lot better!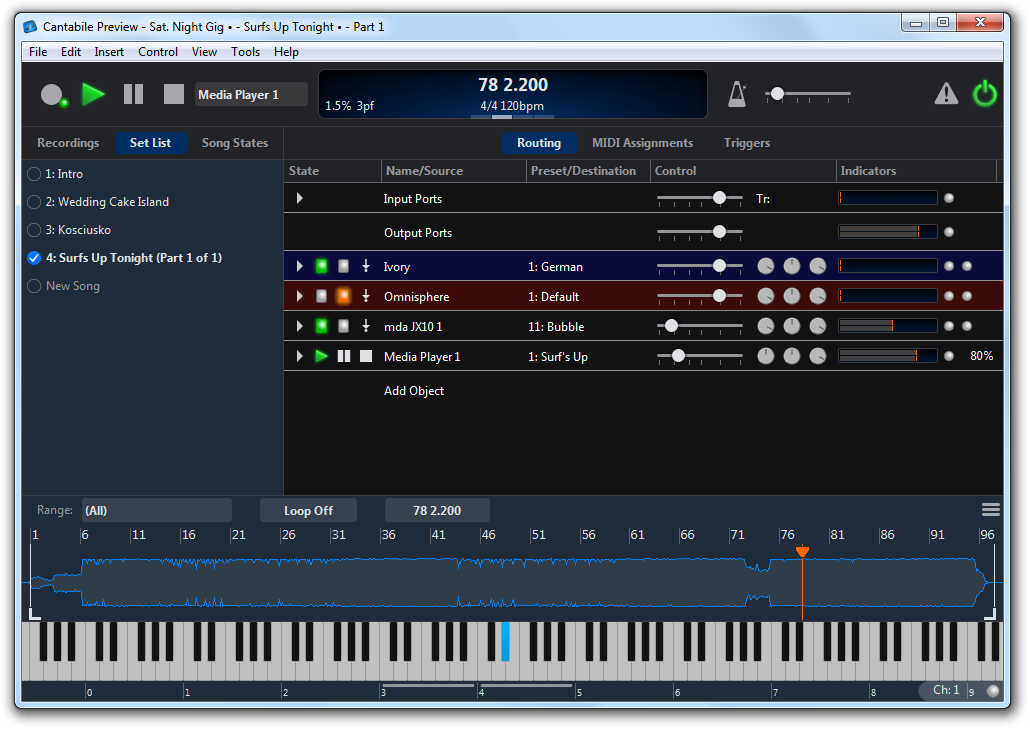 ---
Not your typical music workstation
Cantabile is not your typical music workstation - it's designed specifically for live performing musicians and is perfect for performing on stage, practicing in your garage or anything in between.
Play VSTs, trigger media clips, instantly switch between songs, integrate with your existing hardware, control it all via MIDI and simply perform better.
---
Multi-Core Audio Engine
Cantabile's new audio engine has been re-engineered from the ground up with a focus on performance and stability, faster audio mixing and more flexible audio and MIDI routing.
Real-time audio performance and stability has always been, and always will be the primary goal of Cantabile.
---
Shiny New User Interface
The new user-interface is the first thing you'll notice with Cantabile 3. Gone is the tired old ribbon, gone is the clutter and gone are many of the unnecessary icons.
Instead, a clean new minimal, functional and easy to use user interface.
But it's more than just a pretty face: Light and Dark themes, support for high-resolution displays, support for touch screens, re-scalable while retaining crisp, clear text and images, customizable shortcut keys, customizable theme, a new Quick Controller for fast data entry and control and more...
---
Shared Racks
Shared racks let you save pre-configured instrument or effect racks and re-use them across multiple songs. Not only that, but racks shared between two songs remain loaded and running - so switching between songs is fast. You can even continue playing instruments while switching songs!
Racks include all the features of what was previously called a "session" including plugins, media players, bindings, triggers etc...
---
Faster Song Switching
You can now switch songs almost instantaneously with set list pre-loading. When enabled, every song, rack and plugin used by the set list is loaded ready to go.
While this might sound demanding on memory, if you've configured your songs to use shared racks those racks and any contained plugins only need to be loaded once - no matter how many songs use them.
---
Controller Bar
Cantabile's Controller Bar includes large buttons for sending program changes, tapping a tempo, loading next or previous songs and/or song parts and transpose changes.
Also, you can add your own buttons to send just about any MIDI event or invoke any of Cantabile's built in commands.
---
Ticker Bar
The ticker bar shows your set list and song parts as a horizontal scrolling list. You can see at an instant where you are in the gig and what's coming up next.
---
Live Mode
Live Mode switches Cantabile's main window layout to an alternate layout optimized for live performance hiding all the unnecessary editing tools and showing just what you need for the gig.
---
New Show Notes
Use show notes to show reminders, ascii guitar tabs, lyrics, chord progressions, images or any other information you might find handy during the show.
Show notes are integrated with Cantabile's song and part management and can automatically update when you switch songs or even song parts. eg: show different notes for each verse of a song.
---
Hardware Abstraction
Your sessions no longer directly reference physical hardware. Instead, you create abstract device ports like "Main Keyboard", "Front Speakers" which are mapped to your hardware and your sessions reference these ports.
If you need to swap out a keyboard, sound card or external sound module just install the new device, update your port mappings and away you go. All your saved sessions will continue to work.
---
Flexible Routing System
Cantabile's new audio engine provides an extremely flexible system of audio and MIDI routing.
All objects have ports which are wired together using routes. Audio routes have adjustable gain settings for partial sends and level adjustments. MIDI ports have source and target channel selectors, transpose settings, MIDI filters and more.
Also, the new MIDI routing system was designed to handle real-time changes so you don't end up with stuck notes. Changing the target of a route while notes are held will route the release events to the original target.
---
Background Rack
The background rack acts like a song that's always running in the background.
It's typically used for bindings that should work across all songs, but you can also load plugins, media players and triggers that will be available across all songs.
(Bindings is the new name for MIDI Assignments)
---
Media Players
Media players now support play lists to manage multiple files, and each file can have multiple play ranges defined (great for looping sections for practice). Loop mode now supports a loop count and we've simplified and improved the synchronization modes.
There's also a new timeline view that gives a much clearer, easier to use view on the contents of media files.
---
Easy Automatic Recording
Cantabile can automatically start and stop recording when it detects either MIDI or audio input. Capture inspiration when it strikes - just start playing and Cantabile will record it.
You can now record multi-track audio and MIDI by simply selecting which input and output ports you want to record.
---
Bindings
Bindings let you control just about any setting from an external MIDI device.
The new bindings editor provides a simple way to quickly and easily your bindings, or there's a learn mode to easily work out the events your device is sending.
Plus, there's vast range of bindable settings, it supports bindings from 14-bit "fine" controllers and other complex event types and range mapping so you can precisely align your hardware to the response you need.
---
States
Cantabile lets you save the state of all objects in a song or rack as a named state for fast recall. Tweak the gain of a plugin, turn plugins on and off, enable bindings in some configurations and disable them in others, dynamically change the target of MIDI routes and more...
States provide for super-fast sound switching since the same set of plugins can be used in multiple songs in slightly different configurations without having to reload everything.
---
Triggers
Triggers are typically used to setup external gear for the current song.
On loading a song you can, for example, send program change events to an external sound module, send MIDI commands to a lighting rig, invoke a script to control your score reader and more.
---
MIDI Filters
MIDI filters let you perform various transformations on MIDI data as it passes through the processing pipeline.
Change MIDI channels, transpose, apply a velocity curve, control a VST parameter, convert between event types, suppress some events and more...
---
Much, much more...
Resizable (and multi-touch capable) on-screen keyboard
Automatic detection and reconnection to USB MIDI devices
Robust plugin scanning (no more crashes during scan)
Set List and State sorting and program number reassignment
New look level meters with clip indicators
Metronome
Set Lists
All Notes Off button (Panic mode)
Plugin slot colors
Global transpose setting
MIDI clock support (master and slave supported)
New MIDI monitoring capabilities
jBridge support
Partial screen-reader support
And there's still more coming!
Check out the Cantabile Development Board for details on what's under development and what's planned. You can leave feedback and even vote on features that are important to you.
---
Try It For Yourself
Still not convinced? Why not try it for yourself?
Includes Cantabile Lite and free 30-day trial of Solo and Performer.
Requires Windows 7 or later and registrataion via email. OS X version coming soon.
---
Questions?
Will it open my version 2 session files?
Yes, but unfortunately not everything in Cantabile 2 maps cleanly onto version 3.
In order to introduce some much needed new features (mainly the new routing engine) we've had to sacrifice some backwards compatibility. Cantabile 3 will do it's best to upgrade old sessions and will bring over most settings - but it won't be perfect.
Also there are better, easier ways to do things in version 3 so you'll probably want to tweak your sessions anyway to make the most of these new features.
What about a OS-X edition?
Yes! The code base is now about 90% cross platform and ready for porting to OS-X. The initial release will be for Windows but followed soon after with an OS-X version. See here for more.
Have other questions?
Not sure, or curious about something? Please get in touch and we'll get right back to you.