Upgrading from Cantabile 2
This page contains information for Cantabile 2 users considering upgrading to the latest versions of Cantabile.
Upgrading your Cantabile 2 Sessions
Before purchasing Cantabile you should be aware that upgrading existing Cantabile 2 sessions is not a completely automatic or transparent process.
There is detailed information about this here.
Purchasing Upgrades
Upgrade purchases are made via the Cantabile User Portal. To purchase an upgrade, login to the portal (see below), click the license you wish to upgrade and you'll see a link to upgrade at the bottom of the box: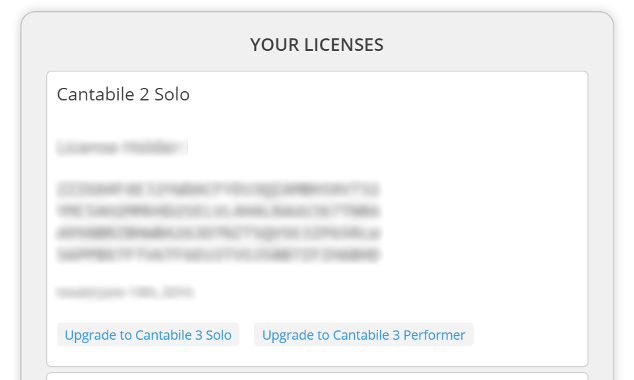 Accessing the Cantabile User Portal
The Cantabile User Portal can be accessed in one of a few ways:
If you've activated a license in Cantabile you can access the portal via Cantabile's Help menu -> Cantabile User Portal
You can also login here, or by clicking the "Account" link in the top right of and page on the Cantabile website.
If you no longer have access to the email address you're registered with, please contact me with details of your old email address, your PayPal transaction Id, or at least your full name and we'll sort it out.
Upgrade Pricing
Performer 2 -> Performer 3 USD$99
Solo 2 -> Solo 3 USD$30
Solo 2 -> Performer 3 USD$159
What's this about Subscriptions?
The subscription is for updates only. Cantabile will continue to run indefinitely even if your subscription expires - you'll just miss out on new features and updates.
For a more detailed explanation on the rationale behind this, see this page.
Changing Email Addresses
If you want to change your email address you can do so in the portal. Just click the Edit Profile button, enter your new email address.
You'll be sent a confirmation message to the new email address to verify the email is correct.
Questions
If you have other questions, please get in touch.