Cantabile's File menu has had a clean up: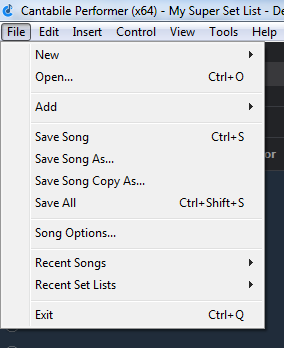 Some notes:
The Open command now opens either Songs or Set Lists — there are no longer separate commands
The Save commands work on the currently active view — the focused song, rack or set list. You'll notice the name of each command now reflects the file that will be operated on. eg: "Save Song", "Save Rack", "Save Set List".
The Save All command is new and saves all loaded and modified songs, racks, the set list and the background rack.
The Save Copy As commands can be used to save a copy of a file as a new file without changing the name of the currently loaded file. This replaces the old Export Rack As command but now also works on songs and set lists.
The commands for adding songs to a set list have been collapsed into a sub menu.
The Song/Rack/Set List Options command is new and I'll cover that in another post.
I'm not entirely convinced about the combined File Open command and wondering if this would be better reverted back to two commands. Let me know if you have a preference.
Overall the menu is simpler and more context sensitive.
This is available in build 3153 and later.