Along with the other more major changes I've made to Cantabile this week there have also been a collection of smaller but important improvements including:
ability to hide the main toolbar
route icons
invoking transport actions from triggers
per-route setting to ignore global transpose settings
activity indicators on MIDI assignments and triggers and
some new song part commands and assignments.
Hiding the Main Toolbar
With the introduction of the Large Status Panel I thought some users might find the main toolbar unnecessary. So in the View menu is a new command to [Hide and Show Toolbar:

Route Icons
Routes now have a little icon to more easily distinguish them from each other:

Invoking Transport from Triggers
Triggers can now invoke transport actions like starting playback. For example you can configure a trigger to automatically start playback when the session or a session-state loads.
Per-route Setting to Ignore Global Transpose
MIDI input routes can now be configured to ignore the global transpose settings. This is useful for percussive instruments where transpose shouldn't be used. The setting is found in the MIDI Route Settings near the transpose setting:

Activity Indicators on MIDI Assignments and Triggers
MIDI Assignment slots and Trigger slots now both have a little indicator to show when they're triggered:

New Commands and Assignments for Song Parts
Finally, there are some new commands and MIDI assignments for controlling the current part within a song. For MIDI assignments these are in a new group called "Song":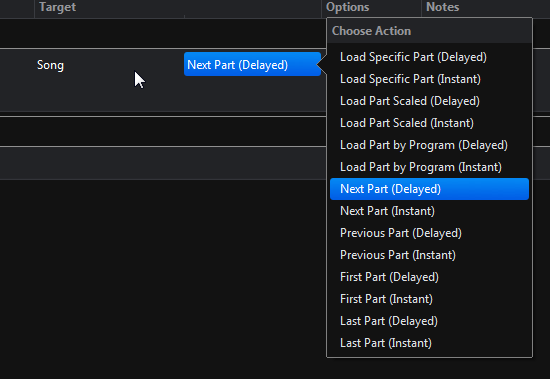 You'll also notice the Control menu has been cleaned up with commands re-organised into Next/Previous/First/Last sub-menus. The Quick Controller has also been updated and can now load a song part by number. For example typing 5Y will load the 5th song part.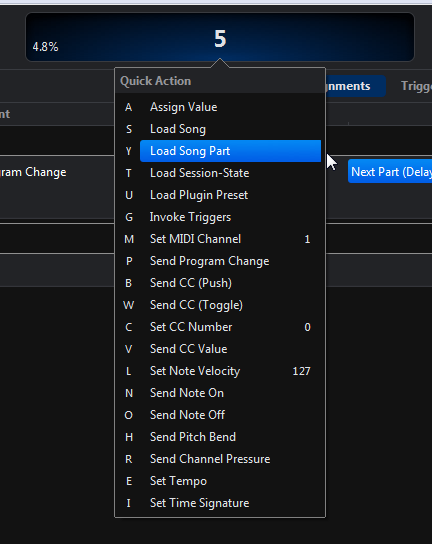 Available Now
All this is available in the Cantabile preview builds now! If you've got comments or feedback please contact me or leave a comment on Trello.