Cantabile's controller bar now (as of build 3591) supports multiple layouts, where each layout stores the set of custom buttons you've configured as well as the visibility of the built-in buttons.
Working with layouts is pretty easy, just use the Layouts menu in the right click menu: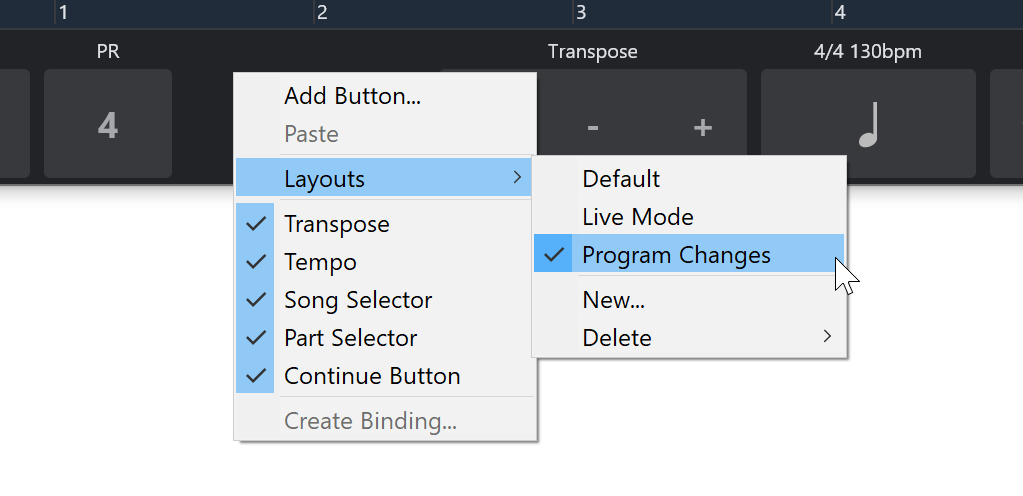 The items at the top of the menu are the layouts you've created.  Select one of these options to switch between layouts.
The "New..." command lets you create a new layout and choose to have it initialized to either the same as the current layout, an empty layout, or a standard layout with a set of CC buttons.
The "Delete" sub-menu, lets you delete previously saved layouts (you can't delete the currently active layout).
Controller Bar Layouts and Live Mode
Cantabile's stores a separate setting for the active controller bar layout in normal vis live mode.  This means you can have one layout for normal editing and another for live mode.
To set this up, just switch to Live Mode and select the controller bar layout you prefer for live mode.  Now toggling between Live mode and Normal mode should also switch the controller bar layout.
Clipboard Support for Controller Bar Buttons
Finally, you can now copy/paste controller bar buttons.  You can only work with one button at a time, but it provides a better way to configure the same button in multiple controller bar layouts: