Orbital Redux is a LIVE interactive sci-fi adventure series, featuring live music and live special effects. The show chronicals a former astronaut navigating life after NASA runs out of funding and is tasked with teaching a new pilot the ropes of the space program.
Joshua Fielstra is the composer and one of three live musicians for the show (the other two cover bass and electronic drumkit). Josh has also been involved in music or sound design for HBO, Showtime, FX, Discovery Communications, and more. You've probably heard his work in theatrical and television trailers for Game of Thrones, Jurassic World, American Horror Story, the Dark Knight franchise, and multiple projects within the Marvel cinematic universe.
I can't say enough good things about Cantabile. I'm doing a streaming sci-fi show, the first of its kind — live action, live special effects, and live score. We have tens of thousands of people in the streaming audience so my live rig is mission critical!
So what gear does Josh use for the show?
About 80% Omnisphere (Keys parts plus cinematic hybrid instruments), and about 20% Kontakt (orchestra strings and orch FX).
Nord Stage 2. Its sound generator is also patched directly into the board, in the event anything in the computer signal path isn't there when he starts playing.
Multiple splits/layers but these are all done on the Cantabile side rather than program anything on the Nord.
Surface Book 2 (512Gb) — the computer powering Cantabile, script notes, and GUI for the Behringer rack mixer.
Audio interface — RME Babyface with a buffer of 256 samples.
Behringer XR 18 — digital rack mixer which gets all audio, the bass, the drumkit, the dialog/SFX mix from the program, sends the music submix to the main program, and distributes headphones for the band (they have to perform on headphones so that they don't bleed into the actors' mics)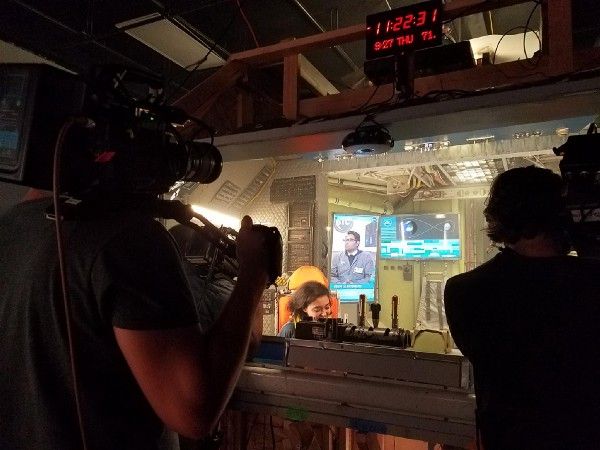 I asked Josh what he enjoys most about Cantabile:
A signal and routing path that does NOT mimic that of an analog mixer (inserts, auxes, etc) but is freeform — exactly what a live performer needs. (Plus, it's 2018).
Live View, with bespoke buttons (I'm on a Surface Book 2 and love this for touch). When I saw how many things you could assign to these buttons I had a jump for joy ;)
Saving the state of a plugin, including loading it disabled.
Detailed monitoring info with system parameters that show the overall overhead + "risk" of your set, not just a mysterious percentage. Windows Task Manager is usually very little help with audio streams.
A way to handle HiDPI displays (so many developers still haven't done this properly…Cubase is a mess).
Complex MIDI filtering, if you need it — I do have some hardware (Nord Stage) that sends a message for every button, which I don't need.
Songs are separate, save-able objects and are not embedded into an opaque project file…I need to re-use a lot of things from cue to cue.
If I had to summarize the main thing I'm enjoying, it's a loooong list of customizable parameters, filters, and even expressions — I know that I'm going to be able to get what I need, instead of building a set around the particulars/limitations of the software I'm using. This does come with a learning curve, but I think your clients are a focused demographic that are trying to do something very particular — the extra curve is worth it (and the tutorials are great).
As for the music itself, here's an interview with Josh about what that's been like:
A final quote from Josh:
Anyway I'm delighted to support your project, I've used a lot of tools over the years and none of them come close.
Thanks Josh and all the best with the show!
You can check out Orbital Redux here and read more about Josh's work on his site http://fielstramusic.com/.