Song and Rack Options
Every song and rack file in Cantabile has a few options that control how it behaves.
To adjust these settings, open the song or rack file and from the File menu choose "Song Options" or "Rack Options" (depending which type of file is currently active).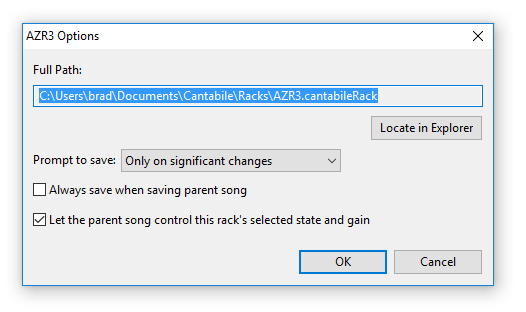 Full Path

Displays the full location path of the saved file

Locate in Explorer

Opens Windows File Explorer and selects the song or rack file

Prompt to Save

Controls the kinds of changes in the file that cause it to be marked as modified (See below)

Always Save When Saving the Parent Song (Rack Options Only)

Forces this rack file to be saved when the parent song is saved - even if it hasn't been marked as modified.

Let The Parent Song Control This Racks Selected State and Gain (Rack Options Only)

Normally on, this option lets the parent song of rack control it's state and gain settings. Turn this option off for racks that are intended as a global output control. By turning this option off settings in the rack are isolated from the parent song and can be used to create global changes across all songs. eg: you could put an EQ in such a rack, and route all outputs through it and then tune the EQ for a particular venue.
Prompt To Save Options
The Prompt To Save option mentioned above has follow choices:
Never

The file will never be marked modified and therefore you'll never be prompted to save it

Only On Significant Changes

Only changes to the structure of the file cause the file to be marked modified. eg: inserting a plugin would mark it as modified whereas tweaking a plugin parameter wouldn't. This option is handy for working with plugins that generate excessive change notifications causing the file to always be marked as modified.

On Any Change Except via Bindings

Any change will mark the file as modified - unless the change occurs as the result of a binding.

On Any Change

Any change will mark the file as modified.
See also Preventing Prompts to Save.